Chalice recognises the importance of building a diverse and inclusive team
Chalice is focussed on promoting wellbeing, supporting mental health and embracing diversity and inclusiveness to create a brighter and better workforce. As an exploration and development company, our permanent workforce is small, so it is critical to invest in and develop our people and attract the best talent.
Organisational Culture
At Chalice we believe in creating positive and supportive relationships with our people. Our employees play an essential role in supporting Chalice to achieve its objectives and purpose of 'finding the metals needed to decarbonise the world'. Our Company values are at the heart of our approach to people: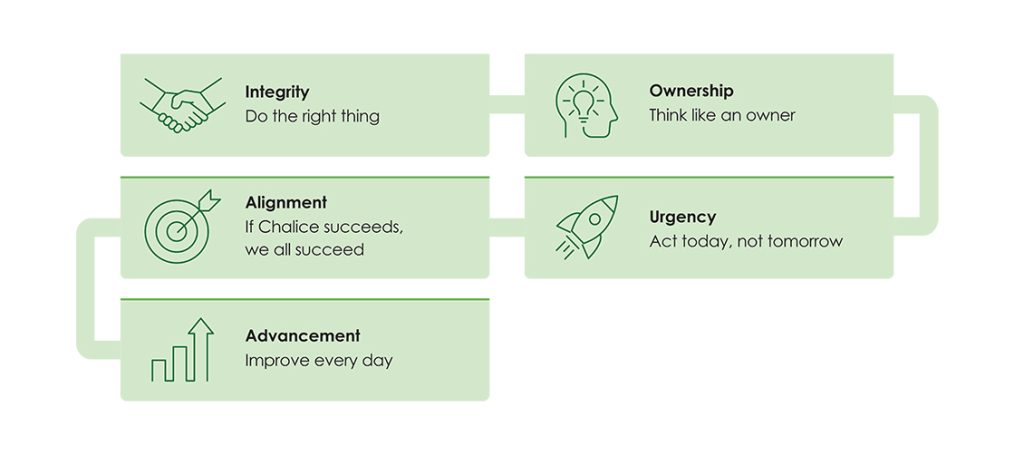 Diversity and Inclusion
Chalice recognises the importance of building a diverse and inclusive team with different individual backgrounds, skills, experiences and perspectives. True diversity extends beyond gender to a range of factors such as age, ethnicity, family status and cultural backgrounds. We believe that by bringing together many minds and viewpoints we not only create a supportive and respectful culture, but we will deliver superior business outcomes.
Our Diversity and Inclusion Policy details our current commitments, and approach towards a diverse and inclusive workforce.
At 30 June 2023, women made up 45% of our overall workforce, placing us well above industry standards – a position we are incredibly proud of. At Board level, female representation sits at 29%, following the appointment of Linda Kenyon and Jo Gaines as Non-Executive Directors in 2021 and 2022 respectively.
Annual & Sustainability Report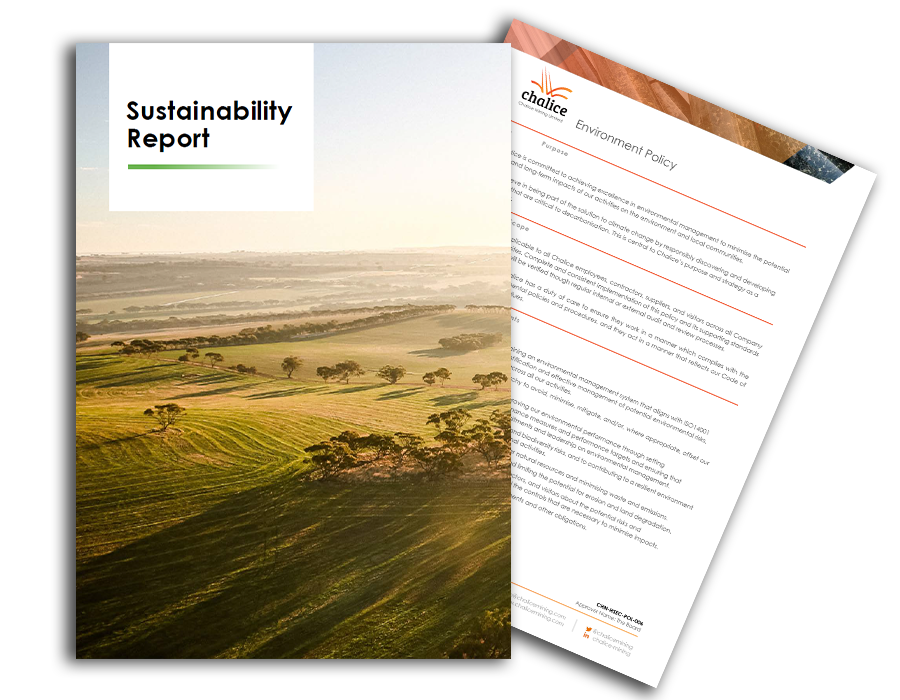 People and cultureCase Studies
WIMWA Mentoring
The Women in Mining WA (WIMWA) Mentoring Program is a professionally created and structured mentoring programs designed to support women in developing skills to grow and advance their careers. During the year, Chalice was proud to support employees to participate in this program.
Dominique Kiat-ong – Administrative Geologist
Dom, a Chalice Geologist, initially entered the WIMWA Program without any specific career goals or expectations. Dom and her mentor engaged in fortnightly meetings to discuss various aspects of Dom's career and personal development. Their conversations extended beyond professional matters as they touched on work-life balance and stress management.
The mentorship experience has been fulfilling for Dom, and she has valued the guidance, support and insights provided by her mentor. The program has empowered her by offering a network of like-minded women in the industry, fostering personal and professional growth.
Dom's mentoring experience has positively impacted her professional and personal life by boosting her confidence and belief in her abilities. As a result, Dom feels more self-assured and resilient in pursuing her goals now and in the future. The Chalice team are proud of Dom's development and commitment to the mentoring program.