Team health and safety lies at the core of our business
Team health and safety lies at the core of our business. Maintaining high health and safety performance requires the right mindsets and behaviours, which together with our systems contribute to our strong safety culture. Our primary objectives are to maintain a culture of integrity and ownership, to provide a safe working environment at all Chalice locations and to maintain the health and wellbeing of our employees and contractors.
Our Health and Safety Policy outlines our commitment to implementing policies, systems, and procedures that assist with hazard identification, risk assessment and control, to ensure a safe system of work and mitigate the risk of health and safety incidents.
Annual & Sustainability Report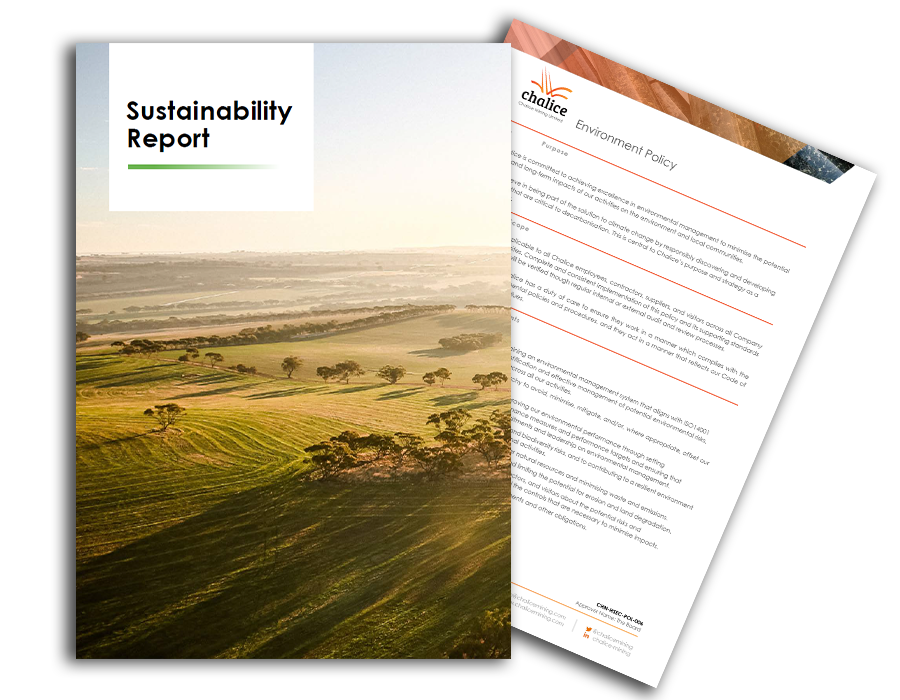 HEATH, SAFETY & WELLBEINGCase Studies
Blue Tree Project and BSS Employee Assistance Program
With psychological risks highlighted as a key issue within the resources industry, the Chalice team have been identifying ways we can engage our workforce proactively to talk about mental health and to better support a mentally healthy workforce. The Blue Tree project is an initiative which brings people together to spark conversations that raise awareness and educate people about mental health. By spreading the paint and spreading the message that "it's OK not to be OK", we can help break down the stigma that is attached to mental health and encourage people to speak up when battling mental health concerns.
The team at Chalice, and our key contracting partners on-site, painted a tree at the Gonneville Project site as part of the Blue Tree Project. The day was run in partnership with BSS Psychological Services who provide our confidential Employee Assistance Program, to ensure we linked the initiative with our key employee mental health support service.
Core Processing Facility Upgrades: Reducing Our Manual Handling Risks
Reducing our manual handling risks at our core processing facility has been a key priority over the last two years. During the period of FY2021-2022 there were five recordable injuries and illnesses which occurred in the core processing line.
The key improvements to reduce the force loads applied during maneuvering of the trays included new roller racking for each of the four core processing lines and new 360-degree roller racking for each core cutting station. The new upgrades have had a positive impact with zero manual handling related injuries associated with maneuvering core trays since the improvements were made.
Other improvements to the core processing area include new levelled work surfaces, overhead shade structures and decontamination stations, which are all part of ongoing improvements to work area design.