Strong environmental stewardship
Chalice is committed to rigorous standards and governing frameworks to ensure responsible environmental practices are followed in all our operations. We take our environmental responsibilities seriously and are committed to achieving excellence in environmental management through understanding the sensitivities of the areas where we operate and applying the mitigation hierarchy to avoid, minimise, mitigate, and/or, where appropriate, offset our impacts to the environment.
Environmental management measures are applied proactively across all our exploration programs through procedures and standards to manage potential environmental risks, impacts and opportunities across all our activities. All environmental management is undertaken in accordance with the Environment Policy.
To view a copy of the Chalice Conservation Management Plan please click here.
Annual & Sustainability Report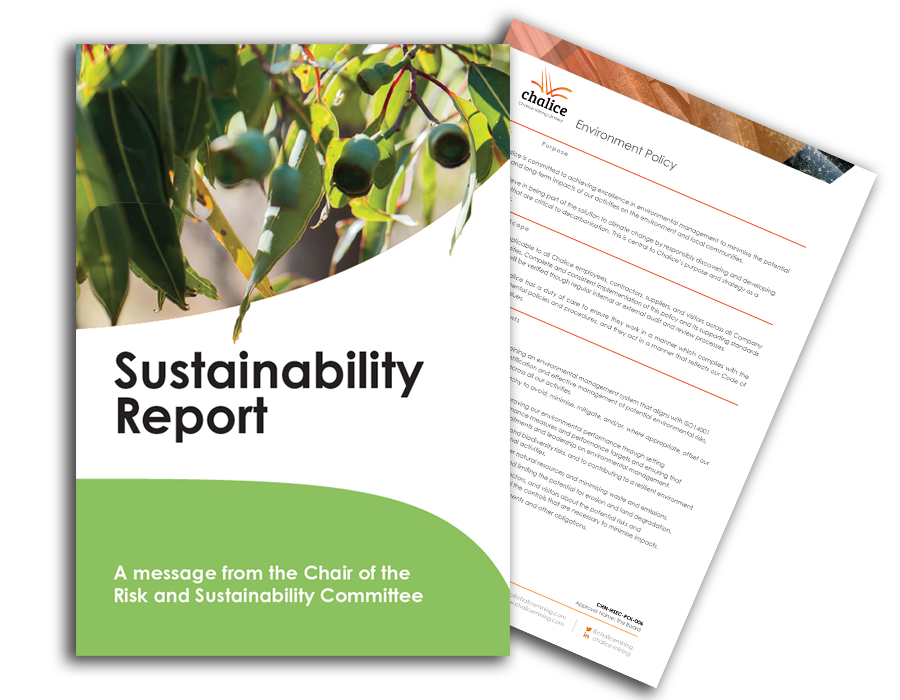 ENVIRONMENTALCase Studies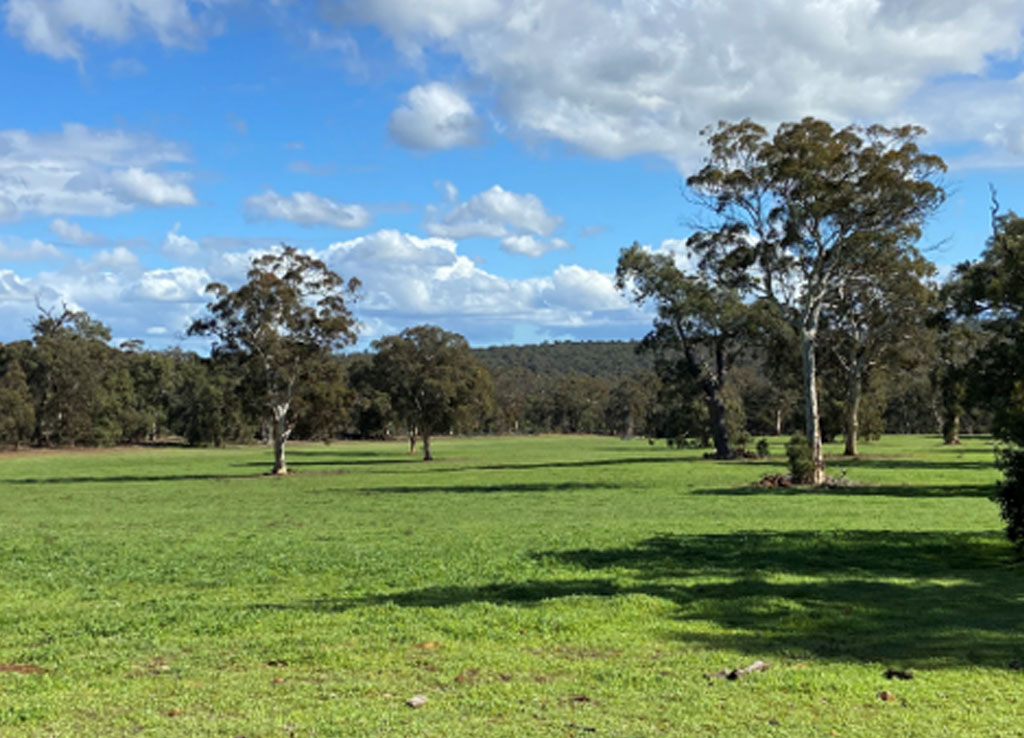 Gonneville Project Biodiversity Strategy
Chalice recognises the importance of understanding and managing land and biodiversity risks, and in contributing to a resilient environment in the areas surrounding our potential future operations. The Gonneville Project is situated adjacent to areas of biodiversity value including State Forest, conservation areas and areas of remnant woodland on agricultural land. With this in mind, Chalice engaged Syrinx Environmental, who are highly regarded in the fields of remediation and restoration ecology, to develop a Biodiversity Strategy for the Gonneville Project.
The Strategy covers potential future mining operations at Gonneville including the direct and indirect footprint associated with mining, processing, and associated infrastructure. The intent is to span the life of the mine and beyond to ensure sustainable post mining closure and land-uses. Central to the Strategy are two biodiversity goals:
To ensure science-based no net loss of species or habitat diversity as a result of any mining operations;
To strive towards a net positive legacy for significant species and our local community.
Ground Water and Surface Water
Chalice recognises that water is a critical shared resource that must be managed efficiently and responsibly. Whilst our current water usage in the exploration phase is minimal, we are conducting studies to understand the potential water usage of a mining operation at Gonneville.
Our goal is to ensure that our activities do not compromise environmental values or have adverse impact on other users.
To deliver on this, and to better understand the groundwater and surface water systems at Gonneville, Chalice has been regularly sampling both groundwater and surface water. These samples are sent to a National Association of Testing Authorities, Australia (NATA) laboratory for independent analysis.
The baseline groundwater and surface water sampling program will continue throughout the Gonneville Project development phase. Additional groundwater and surface water monitoring locations are being investigated at a regional scale. Chalice will then utilise the information gathered to establish a site-specific water balance for the Gonneville Project as the project develops.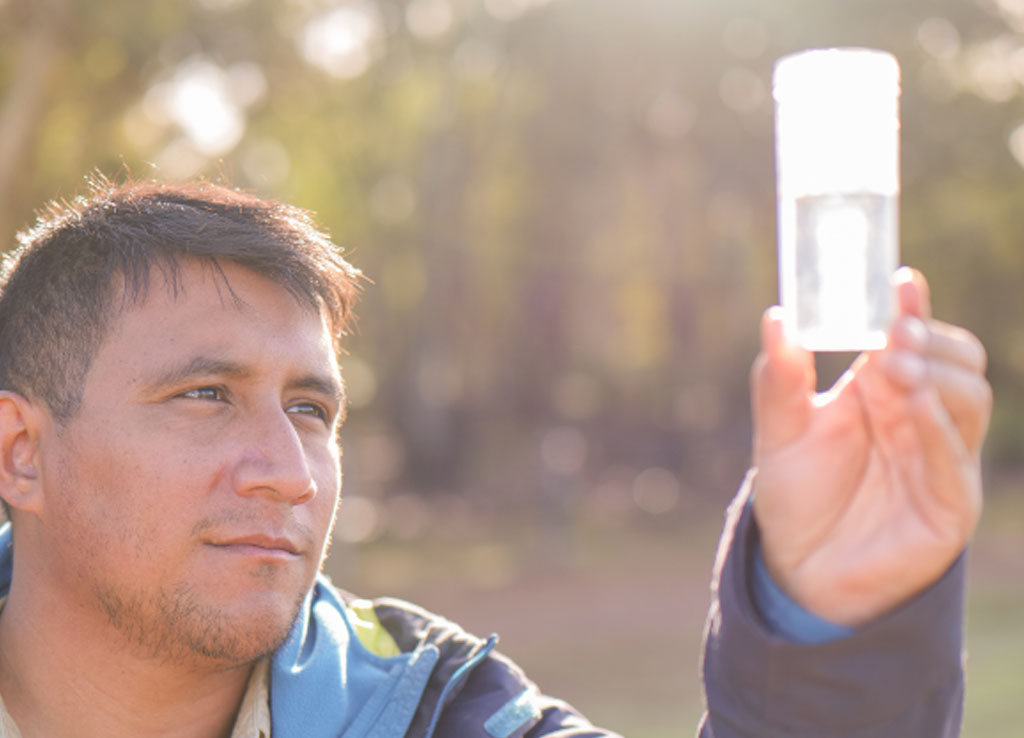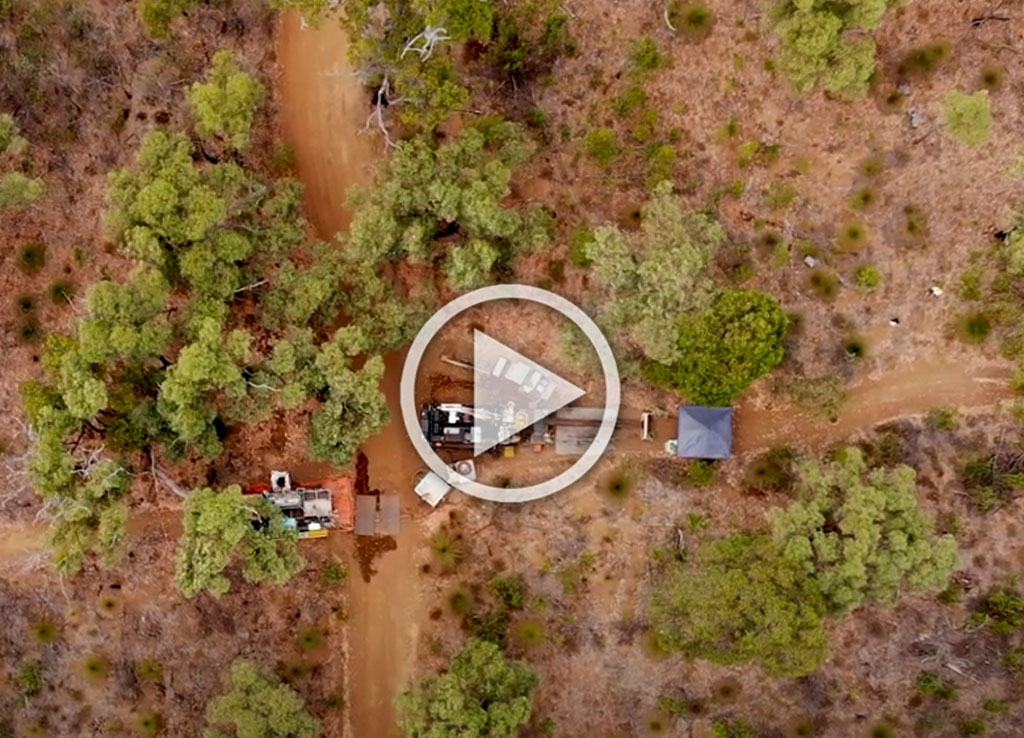 Low-impact Exploration
Chalice's low impact exploration program in the Julimar State Forest uses specialist diamond drill rigs with a small footprint and does not involve any mechanised clearing of vegetation or excavation.
Comprehensive flora, fauna and cultural heritage surveys and monitoring are being used according to industry best practice. The low-impact program is strictly governed by a Conservation Management Plan (CMP) approved by the WA Government in late 2021.
Watch this video to view our low-impact Track Mounted Drill Rigs in action.