| Location | Avon Region, Western Australia |
| --- | --- |
| Development Stage | Advanced Exploration – new discover in March 2020 |
| Acquired | Staked in 2018 and subsequently expanded |
| Ownership | 100% |
| Project Area | >740km2 |
Location
The 100%-owned Julimar Nickel-Copper-PGE Project is located ~70km north-east of Perth. The Project is favourably located, with world-class road, rail, port and high-voltage power infrastructure nearby, plus access to a significant 'drive-in / drive-out' mining workforce in Perth surrounds.

Watch the Julimar Project Video
Opportunity
The Julimar Project was staked in early 2018 as part of Chalice's global search for high-potential nickel sulphide exploration opportunities.
Chalice discovered the Gonneville deposit in the very first drill hole at the project in March 2020, intersecting shallow high-grade PGE-nickel-copper-cobalt-gold sulphide mineralisation. Gonneville is located on private farmland at the southern end of the interpreted >30km long Julimar Complex.
The significant Gonneville discovery has defined the new West Yilgarn Ni-Cu-PGE Province, an almost entirely unexplored mineral province which is interpreted to extend for ~1,200km along the western margin of the Yilgarn Craton. Chalice holds an unrivalled >8,000km2 land position in this exciting new area and is leveraging its competitive 'first mover' advantage.

WATCH: Take a 3D tour of the Gonneville deposit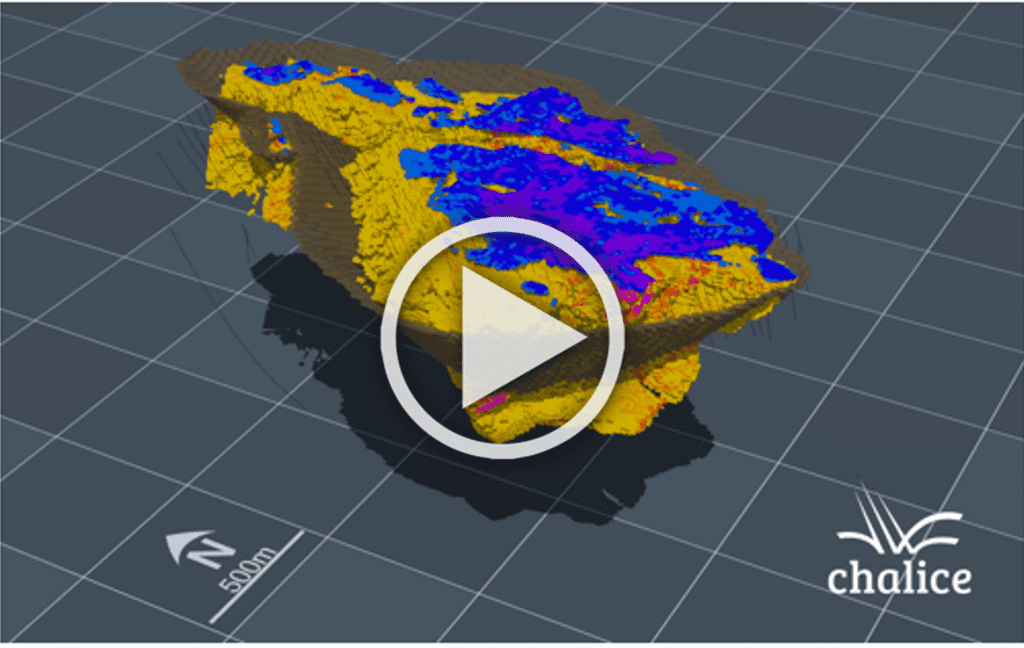 Exploration
Chalice has defined a tier-1 scale mineral resource estimate for Gonneville, now the largest nickel sulphide discovery worldwide since 20001, and the largest PGE discovery in Australian history – demonstrating the potential for Julimar to become a strategic, long-life 'green metals' asset.
Updated Indicated and Inferred Mineral Resource Estimate – Gonneville Deposit:
350Mt @ 0.94g/t Pd+Pt+Au (3E), 0.16% Ni, 0.10% Cu, 0.015% Co (~0.58% NiEq or ~1.8g/t PdEq)
11Moz 3E, 560kt Ni, 360kt Cu and 54kt Co contained
Equivalent to ~2.0Mt NiEq or ~20Moz PdEq contained

The higher-grade sulphide component of the Resource (>0.6%NiEq cut-off in-pit plus underground) has also increased to:
82Mt @ 1.7g/t 3E, 0.21% Ni, 0.20% Cu, 0.020% Co (~1.0% NiEq or ~2.9g/t PdEq);
Containing 4.5Moz 3E, 180kt Ni, 170kt Cu, 16kt Co (~790kt NiEq or ~7.7Moz PdEq);
For further details, including the Mineral Resource Tables and JORC Tables, please refer to the Updated Gonneville Mineral Resource announcement, dated 8 July 2022.
The Resource includes a significant higher-grade sulphide component, affording the project significant optionality in development and the potential to materially enhance project economics in the initial years of operations.

The Gonnville Resources in interpreted to cover just ~7% of the interpreted >30km long Julimar Complex strike length with initial large scale exploration activities underway over the remaining strike length. As such the region is considered highly prospective for further orthomagmatic Ni-Cu-PGE discoveries.
Chalice's ongoing exploration drilling program in the Julimar State Forest is utilising small footprint diamond drill rigs and does not involve any mechanised clearing of vegetation or excavation . Comprehensive flora, fauna and cultural heritage surveys and monitoring are being used according to industry best practice. The low-impact program is strictly governed by a Conservation Management Plan approved by the WA Government in late 2021.

For further information including the latest assay results please visit our ASX Announcements.

1 Source: S&P Global Market Intelligence, Capital IQ
Forward Plan
The Company continues to progress development studies for the Gonneville Deposit in parallel to testing the overall scale of the Gonneville mineral system and initial exploration activities across the >30km long Julimar Complex.
The following activities are continuing at the Project:
Resource definition and extensional diamond drilling at Gonneville with, with an updated Mineral Resource Estimate planned for completion in late Q1 2023.
Reconnaissance diamond drilling across the Hartog, Hooley and Dampier prospects (target areas across ~10km of Julimar Complex strike length) with multiple rigs, under the approved CMP.
Moving Loop Electromagnetic (MLEM) and Down-hole EM (DHEM) surveys across the Julimar Complex, with further seismic surveying also planned.
Access discussions for the northern Julimar Complex (Baudin to Torres targets) and Bindoon Training Area which covers the high-priority Flinders Target, ~25km NE of Gonneville.
Several processing flowsheet options are being investigated in metallurgical testwork, with the aim of maximising metallurgical recoveries while minimising costs and risk.
Scoping Study for a mine at Gonneville on farmland being advanced, and will incorporate the new metallurgical testwork results and the updated Resource.
Baseline surveys of ground water, surface water, flora, fauna and dieback are underway, as part of a long-term baseline and monitoring program to support engineering studies and environmental assessments.
For the latest information please refer to our Investor Presentation.
For information on Chalice's activities within the local area, please refer to our Fact Sheets on the Community – Julimar Project page.
Core Gallery
See gallery for assorted Julimar Project core specimen samples.
Acquisition Terms
The Julimar Nickel Project was staked in early 2018 and is 100% owned.